My Breeding & Price Policies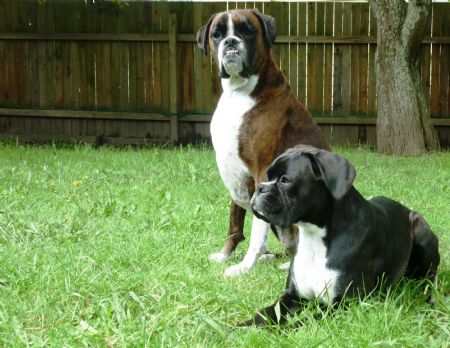 My prefix

(kennel name)

Boxtrinity was registered in 2010 with Dogs Victoria.
Our aim is to continue improving the quality of our boxers and hopefully breed a few champions along the way.
If you buy a puppy from me, you can always contact me for advice and I will try to help you as much I can.
I show and train our dogs and they are health checked before they are bred.
You can visit the dam of your puppy.
I don't allow visitors to our puppies until they are at least 6 weeks old after their first
Puppy Vaccination.
My Waiting List Only
Please note that my waiting list is currently full, and I am not presently and will not be taking any more expressions of interest to join the waiting list in the future. You are more than welcome to contact me to discuss my kennels & breeding programs, and I also welcome inspection of my facilities.
My Pricing Policies
The current prices are listed below.
I do not charge more for bitches than dogs. I do not charge more for flashy pups.
I do not sell our coloured dogs without papers or mocrochips.
I charge the same price across the entire litter, because they all cost exactly the same in time, care, and money to rear.
The price range for one of our puppies in Australia (i.e. not for export) at the moment is as follows:
Brindle or Reverse
Brindle Long Tail $4,000.00, with pedigree papers.
White puppies (when available) - $2000.00 - are half the price of their coloured litter mates, they do have Limited pedigree papers and they are sold under a desexing agreement (at your expense).
My prices are subject to change At any time.
My price includes - worming, vaccination, microchipping, vet check, pedigree papers, , toy, blanket, Lead & Collar, Dry food and a puppy info booklet.
All puppies are raised in a family home environment.
Breeder has the right to refuse a buyer at any stage of sale, for misleading information, health and well-being of the dog.
If you already own one of my dog's and for any circumstances you are no longer able to keep the dog then please bring the dog back to me (no cost or payment for dog). Then I can re-home the dog to a forever home.
If there is anything you feel I have not covered here - then PLEASE - phone or email me with your questions.
Contact Details
Amy Smith
Helaesville, VIC, Australia
Phone : 0409197623
Email :
[email protected]